Dots Tone
"Dots Tone" is the tone of the kind used most when expressing a color tone. When B expresses a color tone, it is a tone of the kind used most. If you use this, various patterns can be pasted at any angles. In addition, high-speed and beautiful tones can be generated by building the same sampling method as 3DCG software into it.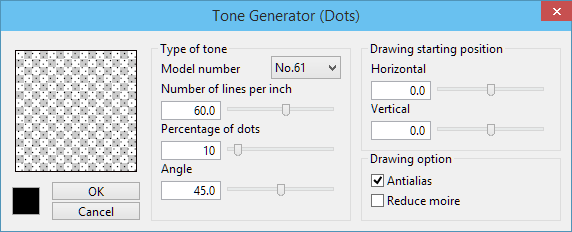 In generic digital screen tones, it blurs in case of high resolution. But Tone Generator can supported to all resolution. So, you can paste the suitable tone for your PC spec and an image.
(Samples of No.61)
300dpi
600dpi
800dpi
1200dpi
2400dpi
Plugin prepares 60 patterns as a preset. Therefore, you can paste easily tones which have the part number specified by the tutorial of comics.
By using "Reduce moire" which adjusts interference of dots, you can also create a pattern which gave priority to the beauty of appearance.
| | |
| --- | --- |
| | |
| Normal | Reduce moire |
It can also specify of the color and is useful for a white tone and hatch processing.
| | |
| --- | --- |
| | |
| Blue tone | White on black |