Desktop PC Controller for Windows 10
From multitouch to gamepad. The remote desktop app that you can create the design.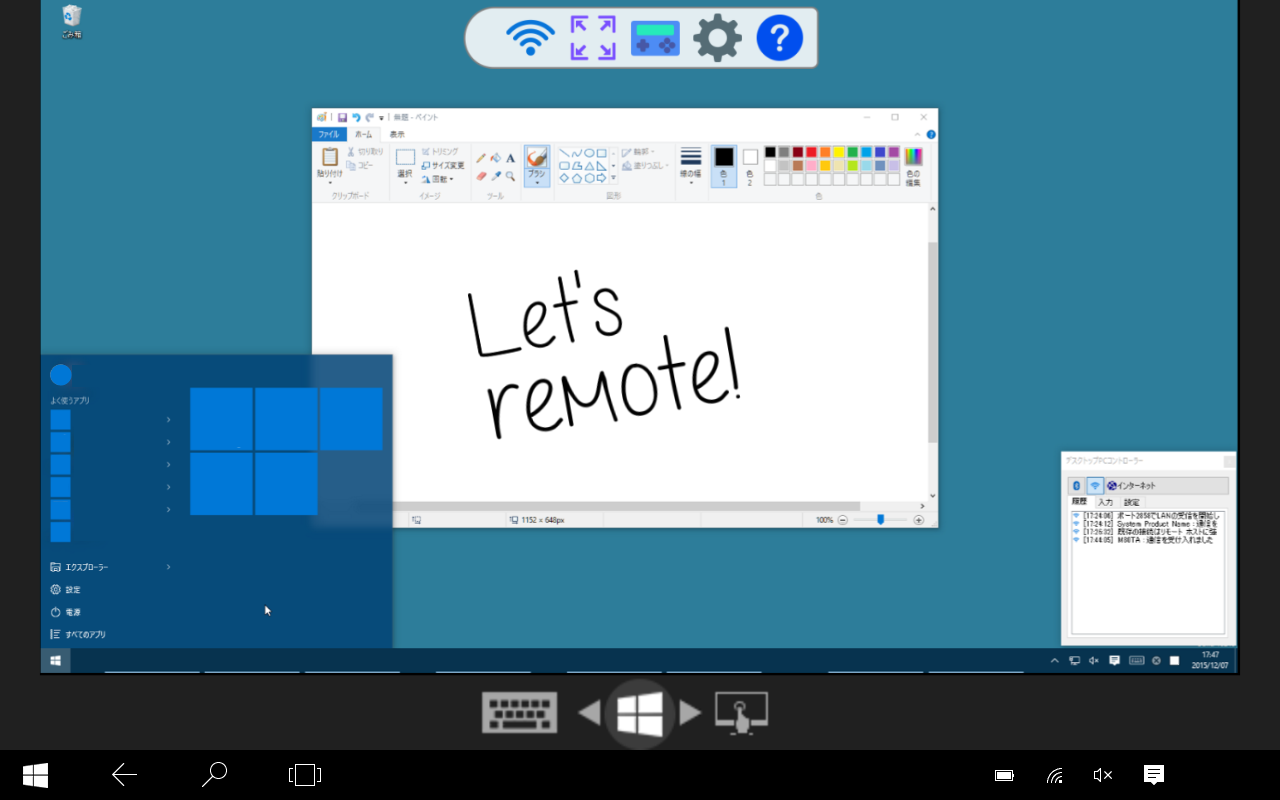 "Desktop PC Controller for Windows 10" is the modern remote desktop app that can change the design suitable for your style by skin files. You can enjoy drawing, presentation, game, offce by remote controlling on Windows 8 and later.
It works driverless
HID driver and display driver was indispensable in the previous version. But, now it isn't necessary. It becomes more operative by installing the drivers contains in the client software.
Support gamepad and digitizer


Of course, it supports a keyboard, mouse and multitouch. And this app supports a gamepad and digitizer with pressure. You can remote it by the physical gamepad and digitizer too.
Motion controll
You can assign the device's tilt state to an operation mouse and gamepad.
Create original controllers


You can create the original contoller with a skin creation tool includes in the client software. Please layout from screens, buttons, keyboard, trackpad, sticks. If you don't have time, you can download skins from an app.
Free scalable


Contoller area can resize freely. You can press compacted buttons even if the tablet has huge display.
Comfortable displaying by GPU encoding and decoding


This app was adapted GPU encoding for transfering desktop images. It was realized the low latency transfering by using a function that a processer provided, such Intel® Quick Sync Video. Moreover, devices whice recives the transferred data executes GPU decoding.

It supports a lossress transfering without GPU. You can experience the high-quality images by an original technology.
Support multi monitor


It shows multiple desktop images by defining at the skin creation tool. You can operate to sub monitors without heavy load by GPU encoding.
Bluetooth transfer
It works on LAN, WAN and Bluetooth. If you use skins that have no screens, Bluetooth communication keeps a long battery life.
Secure connecting
Transfer data will encrypto by Transport Layer Security. It provides functions for safe using like a password inputting, skin permissions, etc.
---
*Please notice
It doesn't work on the environment of copyprotected contents, unti-logger tools, unti-cheat tools.
You need a minimum skill about a network because this app uses a wireless network mainly.
It requires to install a software driver included in the client software for using a gamepad. On the game, please specify "TNK Virtual HID" at the controller on the game config.
I don't check reviews on the app store because there are many iconsiderate comments. Therefore, even if you write a bug report to the app's review, I cannot improve at once. I'd appreciate it when you send a report mail to me directly.
---
Download remote apps
| | |
| --- | --- |
| Android 4.1~ | Windows 8.1 / Windows 10(UWP) |
Remote app is a trial. In Ver 2.0, you can try for 10 minutes from the start of communication to the client software. There is no time limitation.

---
Download a client software
Ver 2.0(Android 4.1~ / Windows 10)
With installer
[32bit / 64bit]
Install with a software input driver and runtime. For the general public.
Archived only
[32bit / 64bit]
You can use it only by unzipping. It doesn't install a driver and runtime automatically. For advanced users.
Ver 1.6(Android 4.0 / Windows 8.1)
With installer
[32bit / 64bit]
For old apps(It can't use for Ver 2.0 and later apps).
Online manual
General app / Skin creation tool

I provide a promotion code for using that app at free to newspeople. If you have any offer of a tie-up, please do not hesitate to say.
---
Privacy policy

I'm going to keep your privacy as much as possible. I'll not disclose your personal information to others except for legal requirements, such as lawsuits and interrogations.

When connecting a client and an app, each IP address are sent because it needs finding the connection destination of them. Data communicated between software will never be sent to the TNK software or any third party in any environment.

For the purpose of preventing mischief, I temporarily store the IP address and mail address who posted the skin file to my server. These data will be removed from my server when I confirmed the safety.

I'll use your mail address for getting your permission about skin(ex: releases your skin at sites or books other than TNK software). But I'll eliminate that quickly when you allow free distribution and notify that to me.