My Reading Mode : Shows contents that you want to read really only!
What's "My Reading Mode"?
This is an extension works on Chrome, Firefox, Microsoft Edge which can show your original reading mode by creating an original definition.
About this page
Basically, a dummy advertisement displays under the title. If you have installed the ad-blocker, JavaScript will detect it and will show an obstacle message on this page.
Let's pick this content
When you show the page of My Reading Mode's setup, please enter "https://www.tnksoft.com/soft/internet/myreadingmode/demo/" into the "Target site". You don't insert a wildcard because target is only one page. "Define name" should enter a name easy to understand for you.

In addition, if you have installed an Ad-Blocker tool, the trouble by competition will decrease by adding this url to an exception to that tool.

This text is surrounded with the tag which has "target" ID. Then, fills at "Add a target" dialog as follows. Incidentally, the search elements efficiency will increase a little if you specify both the tag and the class.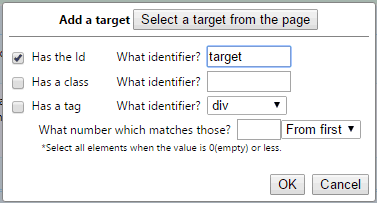 You don't need to edit a reading url because a browser reads "index.php" automatically. But, you may have to solve the ambiguity of url in wizard mode if needed. When wizard mode launched, please click this text and please press "Extend" until the item of "Element has id "target"\ is shown.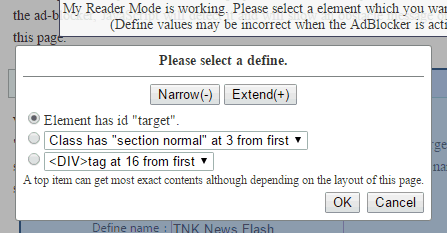 Twitter widgets were blocked when disables all script. If you want to look widgets completely, please check "Twitter" on the exception of web widgets. Because scripts other than a widget script may influence, if there is no effect to that, please permit all scripts and add exception scripts considered that there is no influence(ex:*google*, *facebook*).

— 田中佑典(シンターナ) (@Sinterna) 2016年7月27日
If you are unnecessary the contents after "Related articles\ Please enter at "Add a filter" dialog like this.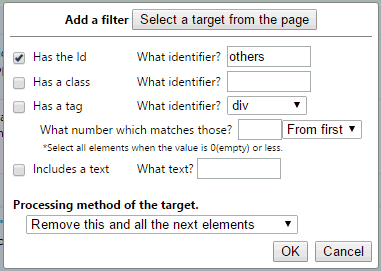 This is an example which exported the definition created before. By entering this text in an import dialog, you can exclude the above-mentioned work mostly. You are free to release the exported data at the web. But, a web master may make that countermeasure when he find that data.
[
  {
    "name": "TNK News Flash",
    "url": "https://www.tnksoft.com/soft/internet/myreadingmode/demo/",
    "script": {
      "remain": false,
      "contextMenu": true,
      "except": {
        "inline": false,
        "path": [],
        "widget": []
      }
    },
    "css": {
      "remain": true,
      "except": {
        "inline": false,
        "inTag": false,
        "path": []
      }
    },
    "layout": {
      "column": "single",
      "searchBar": false,
      "searchUrl": "",
      "encoding": "urlenc"
    },
    "targets": [
      {
        "filters": [
          {
            "filter": "removeThisAndNext",
            "id": "others",
            "place": 1
          }
        ],
        "id": "target",
        "place": 1
      }
    ]
  }
]
Related articles
Article1
Article2
Article3
Article4
Article5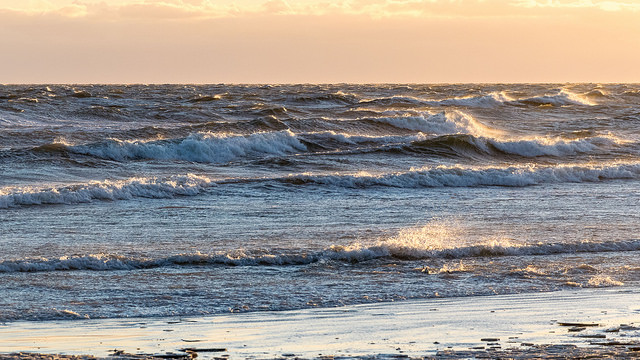 ---